Hello and welcome back to the Verdant Blog!
The California Solar Initiative (CSI) was a fundamental part of launching California's solar PV market. Although the CSI paid its last incentive some time ago, Californians still have access to incentives such as the federal Investment Tax Credit (ITC) and Net Energy Metering (NEM) to help make solar cost-effective. In addition, California continues to fund programs offering incentives for solar on low-income housing such as the Solar on Multifamily Affordable Housing (SOMAH) program.
Before we formed Verdant, many of us worked on evaluating the CSI, and we have continued this work in evaluating both the NEM 2.0 and SOMAH programs. I started my evaluation career back at Itron with the first CSI report covering program years 2007 and 2008. It was an interesting progression for me, as I went from designing utility scale solar to evaluating how installations of behind the meter solar were changing California's electricity landscape
The Verdant team recently wrapped up the final impact report for the CSI program and California's behind the meter solar through the end of 2017. You can view the report here:
https://www.cpuc.ca.gov/WorkArea/DownloadAsset.aspx?id=6442468019.
Some of trends we identified in this report about California's solar market are very relevant today. California's solar market has continued to grow following the end of the CSI program. This growth has included increased adoption in middle- and lower-income neighborhoods. When the CSI started in 2007, over 45 percent of all residential PV systems were installed in census tracts with median household annual incomes above $100k. A decade later, that fraction was below 30 percent and the distribution of solar installs was starting to better match California's population.
The below graphic shows total solar adoption by census tract median income and the trend in this over time. California's overall population is shown on the left and illustrates that more solar tends to be installed in more affluent areas and less frequently in less affluent areas. But in later years we see an increase in solar adoption in neighborhoods with lower median incomes.

In addition to income, homeownership (or lack thereof) is another significant factor that influences solar installations. A property owner has little incentive to install solar on his or her rental properties if their renters are paying the electricity bills. Some programs, such as SOMAH and Virtual Net Energy Metering (VNEM), have been established to help solar proliferate on rental housing. My colleagues Amy Buege and William Marin, along with our good friends at Illume Advising, have already completed Phase I of the SOMAH evaluation. The Phase II SOMAH report should be available soon, so watch this space for some more updates about that.
Another trend is the increasing fraction of solar installed in Disadvantaged Communities (DACs). DAC's are defined as in the 25 percent most disadvantaged of areas as scored by from CalEnviroScreen. In 2017, About 15 percent of PV systems, by count and capacity, were installed in disadvantaged communities, a large increase from the DAC share prior to 2015 (see graphic below). This proportion, however, remains much lower than the proportion of the state with the disadvantaged community designation (25 percent).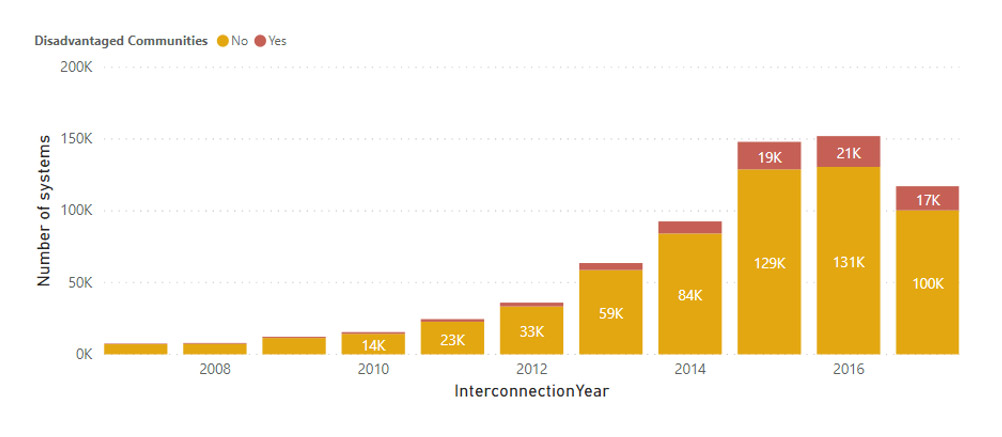 Verdant has continued to analyze the demographic distribution of solar in the NEM 2.0 Lookback Study. In this study, we found that installations of solar in DACs and lower income zip codes have remained relatively constant compared to 2017. This suggests that there is room for improvement for solar incentives and tariffs targeting increased equity, and maybe programs like SOMAH will help aid that improvement.
Our work at Verdant has helped to describe how the solar PV market in California continues to grow and evolve, including in how this generation changes how Californians use energy. We at Verdant have been working with how solar (and other technologies like energy storage) change the energy landscape for decades and are excited to see how this continues to change.
Thanks for Reading and Happy Sunshine,
Stephan Barsun